Bluenose Inn - Bar Harbor
44.39253

,

-68.22123
Bar Harbor

,

United States

|
209US$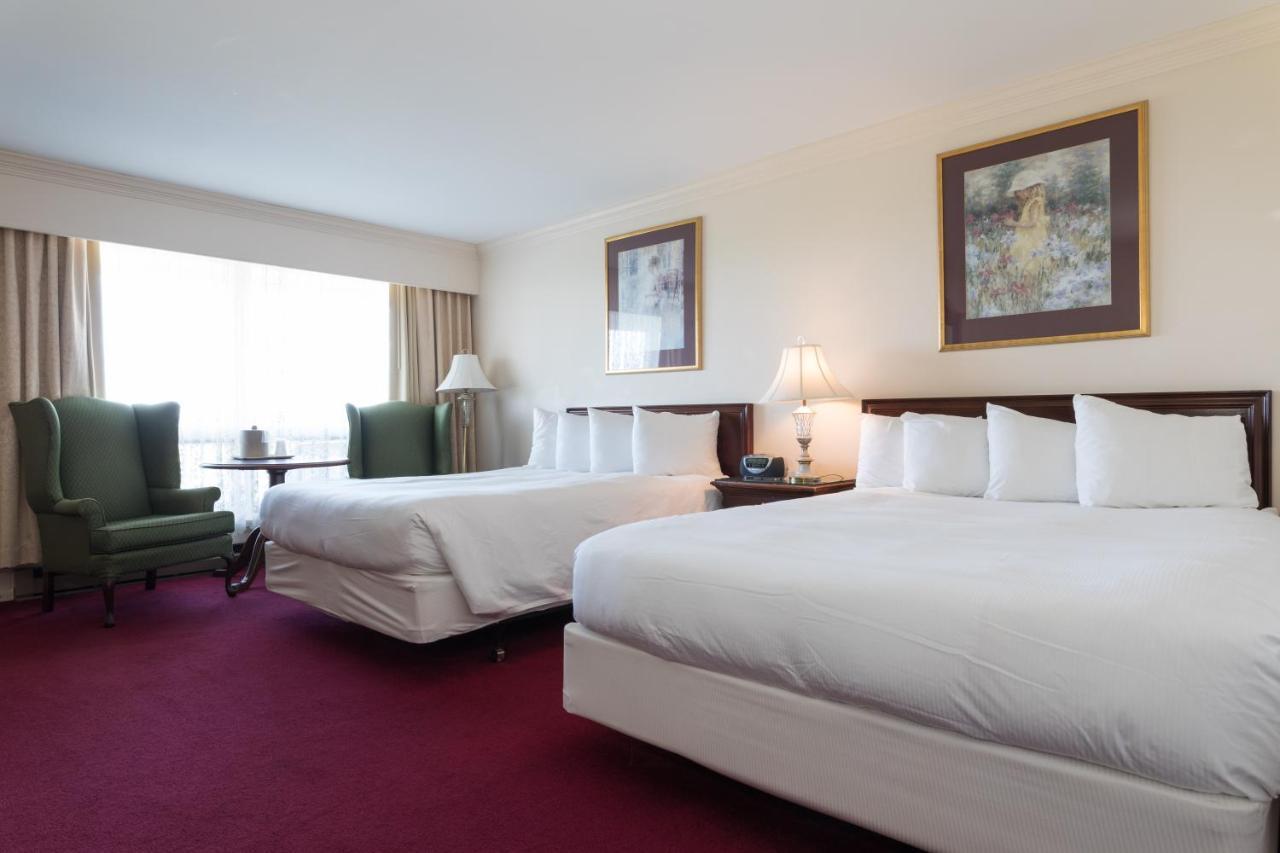 Address
90 Eden Street
,
Bar Harbor
,
Maine
,
United States
,
04609
, Maine
Overview
Located a 10-minute drive away from Frenchman Bay, the 4-star Bluenose Inn Bar Harbor offers Wi-Fi throughout the property and a parking. An American restaurant is available in the comfortable hotel that boasts an ideal location close to the George B. Dorr College of the Atlantic Natural History Museum.
Location
This hotel is set in the charming part of Bar Harbor, a few minutes drive away from Agamont Park. The Bar Harbor property is adjacent to Newlin Gardens and 10 minutes' drive from Acadia National Park. Visit Village Green, around 1.1 miles from the elegant hotel, and feel in total harmony with the nature of United States of America.
Bluenose Inn is located in Bar Harbor, 13 miles from Hancock County-Bar Harbor airport.
Rooms
There are 97 rooms with a balcony and a lounge area. Some of them offer cable channels together with a minibar, coffee and tea making equipment. Some guest rooms offer a spacious decor and views of the ocean. Providing a walk-in shower and a separate toilet, some bathrooms have a hairdryer and towels.
Eat & Drink
Bluenose Bar Harbor offers on-site breakfast in the restaurant. You can enjoy a range of gourmet American dishes at Looking Glass restaurant on site. A brew pub is set brew pub this property and serves American.
Leisure & Business
The Bar Harbor hotel provides an outdoor swimming pool and spa therapy for an additional fee. Guests of The Bluenose can relax in a Jacuzzi, a steam room and an outdoor swimming pool. There is a gym at the luxurious hotel. The onsite wellness facilities include a Spa. Business travelers will also appreciate a 24/7 business center and a meeting room including a sound system and a photocopier.
Internet
Wireless internet is available in the entire hotel for free.
Guest Parking
Public parking is possible on site for free.
Year renovated:   2006.  Number of floors:   4.  Number of rooms:   74.
Former name: Bar Harbor Hotel - Bluenose Inn
Facilities
Most popular facilities
Food/ Drinks
Bar/ Lounge area
Restaurant
Welcome drink
Swimming pool
Seasonal outdoor pool
Seasonal indoor pool
General
Wi-Fi
Parking
24-hour services
Food/ Drinks
Shuttle
Fitness/ Gym
Swimming pool
Sports & Fitness
Fitness center
Golf course
Services
Free shuttle service
Housekeeping
Laundry
Welcome drink
Happy hour
Dining
Restaurant
Bar/ Lounge area
Business
Business center
Meeting/ Banquet facilities
Fax/Photocopying
Children
Board games
Children's menu
Facilities for people with disabilities
Toilet for disabled
Bathroom for disabled
Spa & Leisure
Seasonal outdoor pool
Seasonal indoor pool
Live entertainment
Leisure/ TV room
Steam room
Jacuzzi
Room features
Air conditioning
Heating
In-room safe
Sitting area
Patio
Terrace
Garden furniture
Tea and coffee facilities
Ironing facilities
Media
Flat-screen TV
AM/FM alarm clock
Good to know
Check-in
from 16:00-23:59
FREE
Check-out
until 11 am
FREE
Pets
Pets are not allowed.
Rooms and availability

Bed options:

Max:

2 persons

Bed options:

Max:

2 persons
Ocean view

Shower

Coffee machine

Bathtub

Balcony

Bed options:

Max:

2 persons
Bay view

Shower

Coffee machine

Bathtub

Balcony
Location
90 Eden Street
,
Bar Harbor
,
Maine
,
United States
,
04609
, Maine
City landmarks
Nearby
Restaurants
Hotels nearby
Church
Saint Saviour's Episcopal Church and Rectory
4000 ft
29 Cottage St
Little Village Gifts
4200 ft
Gallery
D'Alessio Gallery
4700 ft
185 Main St
Light Sparkles Studio
4800 ft
Paradise Hill Rd
Cadillac Mountain Overlook
3800 ft
Bridge
Duck Brook Bridge
3900 ft
43 Cottage St D
Friends of Acadia
4000 ft
67 Main St
Atlantic Climbing School
4500 ft
The Natural History Center
4600 ft
Island
Sheep Porcupine Island
1.5 mi
Eagle Lake Acadia National Park
1.8 mi
Acadia National Park Pond
1.7 mi
Behind the Nature Center
Sieur de Monts Spring
2.2 mi
Park Loop Road Acadia National Park
Garden
Wild Gardens of Acadia
2.2 mi
Bar Harbor
Sieur de Monts Nature Center
2.2 mi
Park
Acadia National Park Headquarters
2.3 mi
Museum
College of the Atlantic Natural History Museum
1200 ft
105 Eden St Located at the College of the Atlantic
Turrets Seaside Garden
1000 ft
Restaurant
Tailgate Sports & Pizza
2600 ft
Restaurant
Jordan's Restaurant
3600 ft
Getting around
Airports
Hancock County-Bar Harbor

(BHB)
11.6 mi
Bangor International

(BGR)
49.1 mi
You can book a shuttle, once your reservation is complete.
Reviews of Bluenose Inn
David

We spent our Xmas holiday at a hotel that had wonderful complementary offerings. The staff was friendly and accommodating, making us feel right at home. Additionally, the location was perfect for exploring nearby attractions. We also enjoyed the beautiful views of the water from our room.

The outdated bathroom was a bit disappointing, and we had to unplug lamps to use convenient outlets. The website was a bit deceiving, and we were not informed of an added charge upon check-in. Though the on-site restaurant was not up to par and the continental breakfast was subpar compared to neighboring hotels, we still had a great time.

Josh

The hotel had a pretty good location and was very clean. The view we had from our window was magnificent, we could see the entire bay. The staff was really friendly and nice to us. We also enjoyed the breakfast and the free shuttle service.

There was a serious issue with the air conditioning in the room, as it wasn't working properly. It made the stay very hard for us due to the high temperatures we encountered. The pool was too small and it got crowded very quickly, which made it hard to enjoy. The food wasn't great and there wasn't a variety of cuisine available.

Gerry

The location of this hotel is perfect for hiking enthusiasts, you can explore different trails for 6-8 hours and admire the magnificent scenery. The room service was prompt and the breakfast had great variety and was delicious. The view from the balcony is stunning, you can even see the sea from there. Additionally, the hotel has plenty of entertainment options like a pool and a game room, making it perfect for families with small children.

The Wi-Fi was weak and spotty.

William

I enjoyed my stay at this hotel on a hill with fantastic views of the bay. The staff was very welcoming, and check-in was quick. The room was clean, and I appreciated the complimentary coffee and tea. The highlight of my stay was the pool and hot tub, which were both relaxing and well-maintained.

Nothing that I didn't like.

Charlotte

It's an great hotel in the elegant building. We appreciated sitting on the balcony.

John

Hotel is an ideal place for a weekend in Bar Harbor. We truly enjoyed comfortable beds in our room.

missing

We had a room overlooking the bay with a wonderful view. The room was very spacious for my husband and I and two teenage children. The inside pool area is across the parking lot but is a beautifully designed pool and building. It was very relaxing going there at the end of a full-filled day.This hotel was more expensive than many of the others in town but definately worth it.

missing

Generally an okay place.

What annoyed me was the lack of a convenient laundry facility. It was not in the main building and the hours were restricted so we couldn't use it in the evening and it opened too late in the morning. That in turn required that we had to do laundry at a time when we would have rather been doing other things during the day. We stayed five nights in the main building. We travel light and don't like to haul a lot of clothing. You really can do better in this regard. In the future we'll be looking at other hotels in the area with similar price structures but with more convenient facilities....

missing

The location was perfect. Close to downtown as well as close to Acadia. The staff could not have been more friendly or helpgul.

missing

We had one of the most memorable adventures ever. We were celebrating our 13th anniversary. We had a room with a balcony and fireplace overlooking the bay; the room was very large, very well appointed with all the right touches. The staff was very helpful and attentive to our needs. We loved the cookies in the lobby in the afternoon and enjoying our coffee in the "great room." We would highly recommend the Bluenose to anyone. Thank you.

missing

We stay at this hotel at least twice a year and always find it superior in quality. The cleanliness, friendliness of staff, location, view, and room furnishings never change. One of the best assets of the hotel is the nightly entertainment by pianist Bill Trowell in the Great Room. Bill plays a wide variety of music from classical to modern. He takes requests as well. Rodney Duplisea Bangor Maine

missing

We loved the Bluenose Inn - our room was fantastic - huge bed (really comfortable) and beautiful oversized bathroom. We have a lovely view of the harbour and a fire in the room too. The room was very comfortable, clean and very good value for money. It was a 10 minute walk into the town. We didn't eat in the hotel (prefer to eat out at most hotels) but the menu looked fine. We had a couple of drinks at the bar after returning from dinner and the cocktail I had was mixed perfectly. The inside pool in a separate building was clean and the decor beautiful. We loved the hotel and would love to return - would be great in the winter with the fire in the room.

missing

Bill Trowell at the piano.

missing

Great location and close to all the things we wanted to do

missing

My husband and I stayed at the Bluenose Inn for our 5th wedding anniversaryl. The staff was exceptionally friendly and helpful. An employee was right on hand to offer us a ride back down the hill after we had dinner at the Mirrors restaurant. The fireplace in the room was nice to sit by when you had cold feet after coming in from hiking in the park, and also for drozing by with a book. I was also impressed by the beautiful sparkly light in the bathroom, the size of the bath room and the telephone in there. We spent some time in the lounge where the piano man was kind enough to play renditions of songs from our wedding ceremony. We have spent many nights in rooms around Bar Harbor, but this stay certainly was the most luxurious.
FAQ about Bluenose Inn
What is the distance from the perfect 4-star Bluenose Inn to Bar Harbor city center?
Bar Harbor city center is reachable within a 20-minute walk from the perfect 4-star Bluenose Inn.
Which attractions can we visit during our stay in Bluenose?
Staying at Bluenose, you shouldn't miss Bar Harbor's main attractions, such as Frenchman Bay (2.6 miles), Agamont Park (1 miles) as well as Acadia National Park accessible with a 10-minute drive.
Which landmarks are the closest to the perfect 4-star Bluenose Inn Bar Harbor?
Staying at the perfect 4-star Bluenose Inn Bar Harbor, guests will have a chance to visit the George B. Dorr College of the Atlantic Natural History Museum located just 5 minutes' walk from the property, and attend the closeby attractions, Newlin Gardens (0.2 miles) and Turrets Seaside Garden (0.3 miles).
Can we park our car at the 4-star Bluenose Inn?
Yes, guests of the 4-star Bluenose Inn can leave their car in parking onsite.
Can I eat breakfast at the hotel?
Yes, guests can enjoy express breakfast provided by the hotel.
What is check-in and check-out time at the Bar Harbor hotel?
Guests of the Bar Harbor hotel can check in from 4 PM to 11.59 PM and check out from 11 AM.
Which facilities are offered in the rooms of the perfect 4-star Bluenose Inn Bar Harbor?
Most rooms of the perfect 4-star Bluenose Inn Bar Harbor include a balcony and a lounge area as well as a safe box and smoke detectors provided for guests' security.
Are there any business facilities featured at the 4-star Bluenose?
For business travelers the 4-star Bluenose offers a 24/7 business center and a meeting room with a sound system and a photocopier.
What spa facilities are provided at the perfect 4-star Bluenose Inn?
Spa facilities in the perfect 4-star Bluenose Inn include a Jacuzzi, a steam room and an outdoor swimming pool.
Is there a bar at the hotel?
Guests of the hotel are welcome to relax at the onsite piano bar.